---
Ken La Voie
Singer / Guitarist for solo performances, studio, event & band fill-in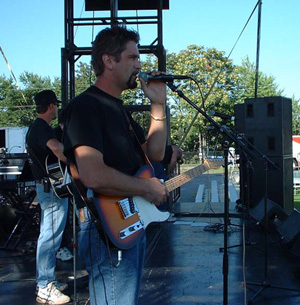 ---
Solo Singer / Guitarist
---
I can do small venues and patio / tavern shows. My repertoire is a mix of classic rock and traditional & new country. Including but NOT limited to: The Rolling Stones, Eric Clapton, The Band, Allman Brothers, Hank Williams Jr, George Thorogood, etc.
My current & future set lists are here.
If you're interested in having me perform, please
send an email with details
or call (207) 873-9321, and I'll reply in a timely manner.
---
Fill-in guitarist
---
I am semi-retired, and as such, I'm only available on a limited basis. I am willing to do fill-ins as long as your showlist is familiar. I will attend practices and will be at the gig right along with all of you before the show. I will help equally with setup and tear down. I do have a
sample showlist from 2006 here
and my current
solo acoustic showlist here
, to give you an overview of my repertoire (songs highlighted in red were Rick West originals).
I've posted a collection of recordings from 2000-2004 here
, both instrumental solos, and songs performed studio & live with Rick West & Cherokee.
On the Rock n' Roll side of the tracks, I specialize in the Rolling Stones, Grateful Dead, Allman Brothers and Eric Clapton. I might be a bit rusty but I promise I won't make you look or sound bad! My primary strengths are lead guitar and fills. Secondary is rhythm guitar & lead vocals, third is harmony vocals.
---
Studio Musician
---
I am also available for occasional studio work. I learn pretty fast. I don't read music, nor do I have extensive training in theory. However,
please listen to some of my studio work HERE
and decide for yourself if I have the type of sound and skill you need.
---
For booking, please send an email with details or call (207) 873-9321, and I'll reply in a timely manner.
---